Blame it on the millennials for changing things up. Many of today's brides are opting for a destination wedding (DW) with close family and friends and then having an AHR (At-Home Reception) for their extended families and friends once they return. The AHR can occur weeks or months after the ceremonial part has concluded. This is an extremely attractive option as the most popular chosen destination wedding locales include Hawaii, Mexico, Bahamas, US Virgin Islands and Turks & Caicos. These locations offer the beautiful scenery, landscape and picture perfect weather that every bride dreams of for her wedding day. The primary drawback to a destination wedding is only a few select guests(which is most often close family and a handful of friends) can attend, which leaves out most of your extended family, friends, coworkers and others who would love to help celebrate your special day.
After the Destination Wedding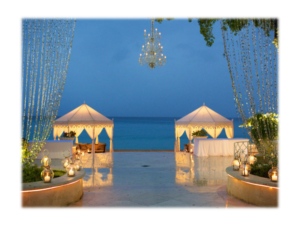 The DW is finished and now it's time to party with all of the guests who could not attend (or weren't invited) to the wedding ceremony. A party back home allows you to have it both ways — you get your fantasy destination wedding without sacrificing the chance to let a broad circle of friends share in your joy. It allows the folks who didn't get invited to your I Do's from feeling left out and takes the pressure off the others who may have gotten an invite to the DW but because of expense or work couldn't make the trip.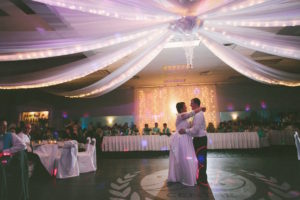 An At Home Reception after the DW can include all or none of the elements of a traditional ceremony and reception day. The key is to make guests feel as though you are doing this for them – as a thank you for supporting them and being part of their lives. The AHR can be as large or small as your budget allows, including dinner, open bar, cake, DJ and dancing!
Many experts agree that an AHR should not include a request for gifts or any "in your face" pictures, slideshows or toasts that include only those who attended your DW. Otherwise, the rest is up to you and your
groom. Enjoy, it's your day!