A Pop-Up Wedding is a quick and affordable way to tie the knot; it's less about the guest count and more about you. Not all of these weddings are alike but the common element is that they are spur-of-the-moment which can it make it easier for a couple to get married while making it less expensive. Spur-of-the-moment weddings are perfect for couples who don't want the cost, stress and time commitment that a traditional wedding may involve.
Benefits of A Pop Up Wedding
Having an impromptu wedding can greatly reduce the price tag of tying the knot. The cost of a traditional wedding can reach 20k or more, so more couples are looking for alternative ways to achieve the same end. A pop-up is a perfect way to celebrate your nuptials without breaking the bank. Many couples would prefer to spend their money on an exotic honeymoon or on a down payment for a new home, and a spur-of-the-moment wedding allows them to do this.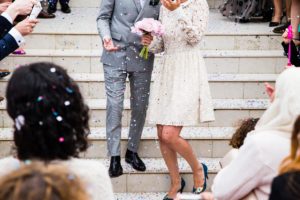 Planning a wedding can be stressful and the details can be endless. The pop-up wedding alternative generally involves a venue, flowers, an officiant, photographer – and of course, YOU and YOURS! The guest list is usually 10 or less with only the closest people in your circle invited. If wedding planning isn't your type of fun or you'd rather do anything else but plan a wedding – than a spur-of-the-moment wedding may be for you.
Wedding planning is time consuming and for couples who don't have the time because of their job, family, life or other commitments a pop-up wedding is the perfect solution. A spur of the moment wedding can be planned within 7-14 days and possibly quicker depending on the time of year. Generally, off season (in your region) is the best time to consider getting married on the fly as vendors are less busy and more apt to be available on a moments notice. However, if your heart is set on peak season, an alternate day of the week is a solid option.
If a pop-up wedding is something that you are considering or if life throws you a curve ball and a spur-of-the-moment event is your only option, calling DC Centre  should be your first decision.  DC Centre can help you put together a last minute wedding that will be affordable and beautiful because we have the space available, the ceremony decor complete with a wedding trellis, aisle runner, flowers and stunning lighted backdrop.  A spur-of-the-moment wedding doesn't have to be at the courthouse – make it fun, magnificent, and affordable at DC Centre.