Guaranteed Pricing

When you sign the DC Centre contract for your event, even if it is 6-12 months away the pricing will not change! We understand that budgets are set well in advance. Our contracts, therefore, do not include any statement or disclaimer allowing us to increase our prices, even if our costs increase. What you sign for is what you will pay. Guaranteed!



All-inclusive Rental Fees

Everything is included in your rental. Everything! We don't charge for incidentals. We believe you shouldn't have to worry about how many napkins and tablecloths and extension cords you are using. With us, you don't have to.



Flat Rate Beverage Service

DC Centre's exclusive beverage pricing is as good as it gets. We charge a flat fee for the entire evening! No more worrying about how many kegs are tapped or bottles are opened; it simply doesn't matter!


We had a blast, the ballroom was gorgeous and the ceremony/reception went better than we even imagined. Our room managers were awesome, tell them thanks and thank you for all you did to help us on our day. You'll come highly recommended.
My wedding and reception was absolutely wonderful!! The DC Centre was great! I loved how I did not have to worry about anything! I loved the set up for the ceremony! I loved the lighting! I pretty much was incredibly satisfied and will recommend to everyone Thank you for making my day memorable and as stress free as possible!
Over the last five years my husband and I have been to several events at the DC Centre and have had fantastic experience. When we were looking for a venue for our own wedding reception, there was no doubt in our mind that the DC Centre was the place for us. Our coordinator, Armana, was wonderful! She was very knowledgeable, friendly and helpful. I was impressed with our room manger (Hunter) the night of the reception, he immediately introduced himself upon our arrival and continually checked in with us throughout the night to make sure everything was going well. The staff at the reception was exceptional, they cleared plates and glasses all night and kept my guests happy with full drinks. I would recommend the DC Centre to anyone looking for a place to hold their event as their entire staff from coordinator to bartender is phenomenal and the venue is beautiful!
Thank you to DC Centre!! I'm part of the Vavra/Cronstrom wedding and DC Staff was fantastic!! I can not thank Armana enough for all the help, advise and organization to truly make our event so special. The staff and especially Joe, was great. I would recommend them anytime!!
Sharon & Staff at DC Centre, Thank you all so much for helping us create a wonderful reception for Nicole & Brian B. The Attention to detail was seen in every aspect of your work and environment. All the staff members were very helpful and attentive to our needs. Thanks for helping us make it a special event for everyone!
Maggie, Just want to let you know how well everything went Saturday for Steph and Ben's wedding. The decorations were exactly how we pictures them and the food was amazing. I was very impressed with the people working the room…everyone was very polite, always ready to help and answered all my questions. Fantastic. I am often disappointed in customer service these days and I rarely take the time to offer feedback, but I wanted to let you know that the DC Centre far exceeded my expectations. Thank you to you personally and to the staff for helping make their special day so perfect.
Aside from my handsome son and beautiful 'new' daughter and their wedding party…………… WOW, you and your staff did a great job, including the bar staff. I had numerous compliments on the food, being one of the best buffets they had. The decorations looked very nice. Thank you for everything.
DC Centre was great to work with and made our wedding day better than I could have imagined! Special thanks to Armana for working with us over the past year, you were GREAT!!!! And thank you to Melissa for all of your help on the big day. YOU made my night less stressful and full of fun, THANK YOU!!!!
Matt and I wanted to let you know that things went really smooth last weekend! We have gotten SO many compliments on our wedding and the party! Everyone thought it was a blast and loved it at the DC Center!!! SO, Thank you so much for all your help in getting our reception planned. It went extremely well…..we were SO happy!
Our wedding and reception went amazing! We couldn't be happier with the way everything came together! Thank you so much for all of your help with planning for our big day! Just got back from our honeymoon in Mexico, and now its back to work tomorrow.
Special Services
We provide the following services, included, for your event
Setup
Assistance with Cake Cutting
Use of Bridal Suite
Room Captain
Servers
Bartenders
Decorating
Centerpieces with Mirrors
Security
Cleanup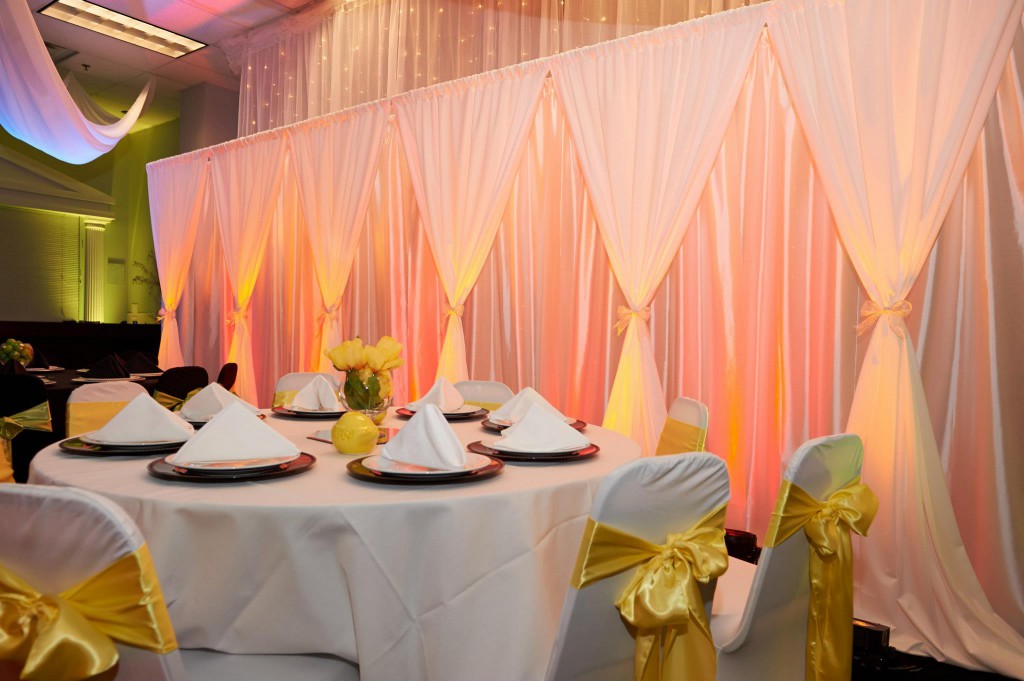 ---
Longevity
The owners of DC Centre, Buddy and Pamela Christianson have owned and operated the company since 1978. Previously known as Dance City of Omaha, the owners have strived to create an environment that treats all customers fairly, from the pricing, to the venue; all are designed to be affordable for everyone. Our position in the Omaha area is solid and we expect to be serving the community for a very long time.
Accredited by the BBB
We are proud to be accredited by the Better Business Bureau and are part of an elite group that has made a public commitment to honesty, accountability and integrity. DC Centre is also members of the following:
SBAM – Small Business Association of the Midlands
MBA – Midwest Bridal Association
Greater Omaha Chamber of Commerce
Association for Wedding Professionals