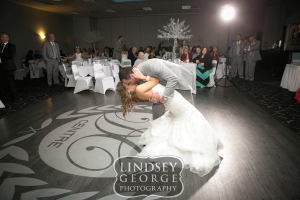 We know that planning and paying for a wedding is stressful, especially when you are looking for affordable wedding venues. If you are currently in the process of trying to find your wedding venue, call and set up a tour with one of our wedding representatives. After the tour is complete and you will receive a complimentary mini bottle of champagne! Fun!
If you book your wedding reception with us within two weeks following the site visit, you will receive a complimentary champagne toast for you and your SO during the wedding reception as well as 2 customized flutes!
Contact us to speak with one of our representatives and set up a private tour of one of Omaha's most popular, beautiful and affordable wedding venues, DC Centre!
In order for potential clients to receive the complimentary champagne after a tour, you must have a chosen wedding date and go through the quote process with our representatives. This offer is for clients booking a new wedding reception. Wedding reception must include food and beverage. This discount is not redeemable for cash.
Call now: 402-393-7431