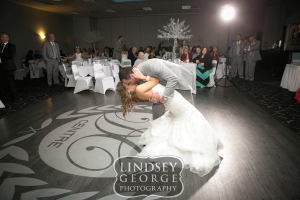 We know that planning and paying for a wedding is stressful, especially when you are looking for affordable wedding venues. If you are currently in the process of trying to find your wedding venue, call and set up a tour with one of our wedding representatives. 
If you book your wedding reception with us during the month of November, for a wedding date in January, February or March of 2018, you will receive FREE ROOM RENTAL (valued at $650-$1250).
Contact us to speak with one of our representatives and set up a private tour of one of Omaha's most popular, beautiful and affordable wedding venues, DC Centre!
The booking of the wedding reception must take place in November 2017. Discounts are not available for current clients, only new wedding receptions. Discounts cannot be used to pay for other areas of the wedding instead of the room rental. Food and beverage is required through DC Centre.
Call or text us now: 402-393-7431