Just For You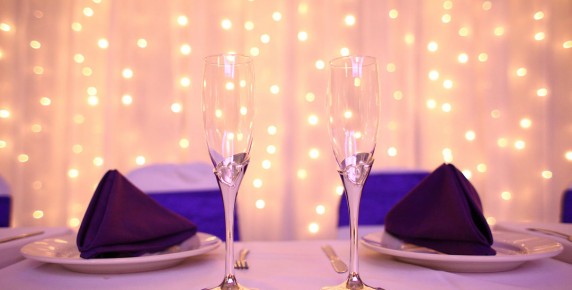 We are officially half way through the first month of 2012, how exciting! DC Centre would like to give a big congratulations to all of the couples who became engaged over the holidays and for those to come in February, we all know Valentine's Day is a big one!
Everyone knows that you deserve to enjoy the engagement honeymoon for a few weeks but then it's back to real life, and planning your wedding! Obviously, that's where we come in. Our comparison chart is currently being revised but last year's chart is still posted for you to compare reception venues around the Omaha area. DC Centre has unbeatable pricing, a great staff (meet them at our Staff Page!), fantastic food and what I'd like to consider one of the most important things: we care. We care about your wedding, how you envision one of the most special days of your life and how we can help you make that day come true!
Now, I would hope that you consider DC Centre for your wedding but hopefully even more so when I tell you a little more about the specials that we run year-after-year for our new brides.
This may have been a mild winter, which most of us hope for but brides who book their reception between the months of November 1 to March 31 will receive are Winter Wonderland discount.
Loving the sound of an April wedding? Who wouldn't! Spring is absolutely gorgeous and you will be too! We have our Easter Special for brides who book over the weekend of Easter. To make this weekend affordable and elegant DC Centre will provide an indoor wedding chapel to marry you and your sweetheart, half off your suite or ballroom rental, half of chair covers and bows, a discounted menu and a champagne toast for the bride and groom. What's more to love?!
Are you a Husker fan? Or not a Husker fan? This special can go both ways! Our Husker Game Day Special is for those of you that are having your wedding day on a Husker game day. We know it can be difficult but that's why we make it easy! DC Centre will give you half off of your suite or ballroom rental, complimentary hors d'oeuvres for your guests before dinner, complimentary chair covers for the head table and reserved tables and one $1 for the bows(!) and if the game is televised during your reception on regular channel programming we can even bring in a TV to your room otherwise we can have it on in the lobby. Sounds like a pretty good deal, huh?
There are so many other things DC Centre can do to help you make your dream wedding a reality and keep your budget under control in the process. It's always easy to get a hold of us, you can send in a form on our Contact Us page or give us a call at (402) 393-7431 if you have questions about anything.
Follow @dc_centre