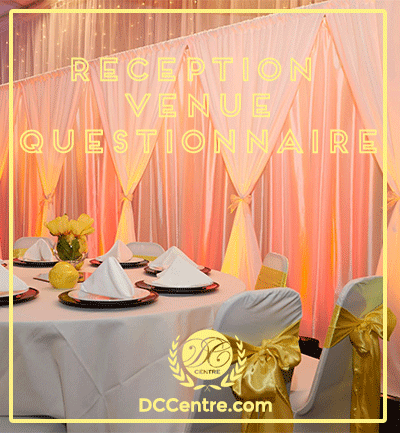 We know, we know…there are so many reception venues and they all offer a variety of different services, where do you even start when going to go check them out? We can help!
Here is a list of questions that you can ask any reception venue, the answers are only good and bad depending on what you want. This will just give you a better idea:
What is your payment policy?
Can I have my ceremony at your facility?
Do you offer event insurance?
Is there lodging nearby?
What is your cancellation policy?
How much is required for a deposit?
Do I pay for security?
What is the latest time my event can conclude?
Who does the clean-up?
What vendors do I have to use for my cake, music, photos, etc?
When can I bring decorations or drop off items for my reception?
Can I bring my own liquor?
Do you have guest minimums?
What kind of discounts do you offer?
What is the price range for a sit-down or a buffet dinner?
Is there a dance floor?
What does the ballroom rental fee include?
Is there free parking?
Are bartenders and servers extra?
What decorations are available?
Are there decorations that I can rent?
Do you do pre-nuptial and rehearsal dinners?
What about a gift opening brunch for the following morning?
What color of linens are available?
What happens to the cost of my reception if your prices go up?
Do you cut the cake?
Happy planning!
Read More