An Uncertain World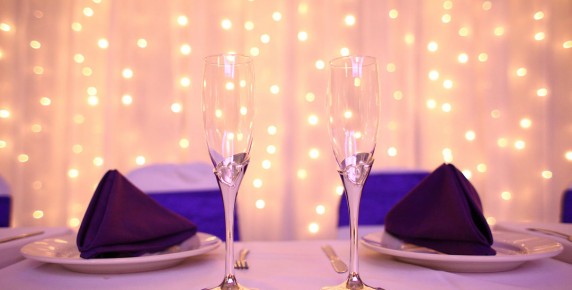 This has always been an interesting topic, at least we think so, and we felt the need to talk about it a little more due to the recent closing of some of Omaha's very popular wedding & event venues: Event/Wedding Insurance.
DC Centre actually can sell wedding and event insurance and we think more clients and people in general should be considering the positives in preparing for something unforeseeable in an uncertain world. You protect your life, your home, your car, why not your special day or event? You take the time to carefully plan and prepare but what if something goes wrong? Are you ready for it? Event insurance can save you a tremendous amount of time, money and a headache when dealing with your vendors.
Traveler's Insurance is the insurance that we are able to issue so we can talk about what they can do for you. Just to give you an idea, policies for events start for as little as $160. That's it! To protect yourselves from thousands possibly lost, we'd say that's a smart move. You are able to read this all on Traveler's Insurance site here but we'll go through what it can do for you (information from Wedding Protector Plan from Traveler's Insurance). Here are the examples of situations that Traveler's Insurance discusses when talking about coverage for an event:
Cancellation or Postponement of your Event – If the venue suddenly goes out of business and is inaccessible or sudden illness prevents the honorees, parents, grandparents or children of honorees from attending, or an honoree is unexpectedly called to duty, this coverage can reimburse you for the deposits lost.
Lost Deposits - If your band or your limo provider fails to show up, this coverage can reimburse your lost deposit.
Additional Expenses – If a caterer or transportation company suddenly becomes unavailable for your event and you can find a last minute replacement, this coverage can reimburse you for the difference in cost up to 25%of the original contract price.
Event Photographs & Video – If your photographer fails to show up, or loses your photos from your wedding, this coverage can reimburse you for the cost of reconvening your wedding party to take new photos or video.
Event Gifts – If your gifts are somehow damaged while on display at the event, this coverage can reimburse you for repair or replacement cost.
Special Attire – If you're traveling to your destination event and the airline loses your event attire, this coverage can reimburse you for the replacement attire.
Special Jewelry  - Special Jewelry can provide coverage for loss or damage to jewelry purchased or rented specifically for personal decoration of honorees on the event date or within 7 days prior to the event date.
There are of course optional coverage options that are most certainly something to look into such as Liability Insurance and Liquor Insurance.
Do you have questions about event insurance? Let us know and we can answer it for you! And we want to know what you think, would you buy event insurance? Why not, if you aren't or wouldn't purchase it?